I have heard of and followed The Story Shop for some time, and I have wanted to visit for years! Located in the heart of Monroe, GA (about an hour and a half from where I live), this dedicated kidlit wonderland did not disappoint! The eyecatching window displays are beautiful and inviting as you walk in the doors. But this door is one of the main attractions…
As you enter, taking in all of the colorful book shelves and seasonal displays, your eye is naturally drawn to this huge wardrobe directly across from the front doors. Yes! It is! THE wardrobe from The Lion, the Witch and the Wardrobe by C.S. Lewis. It is HUGE and completely impossible to ignore. My kids came with me on this visit because we had just finished the book for our family-read-aloud and I promised them I would take them to The Story Shop after we completed it. Of course we opened it…
And it was magical! Fur coats hung on either side and the back opened up into a dreamy wonderland with snow like lights hanging from the ceiling, a plush red rug to sit and hear a story, and a green velvet chair for the storyteller. We were in luck to have arrived just before storytime and my kids and their cousins were excited to hear 3 picture books read by a very expressive employee. I snuck out to snap some more pictures of this bookish heaven.
The creativity behind this reading wonderland is simply amazing! There are themed book nooks around every corner, a hobbit hole, a reading teepee, Old Mother Hubbard's cupboard for the little ones (complete with A Very Hungry Caterpillar chair), a hanging swing, and even a yellow brick road to follow through the store! And then I saw the party room…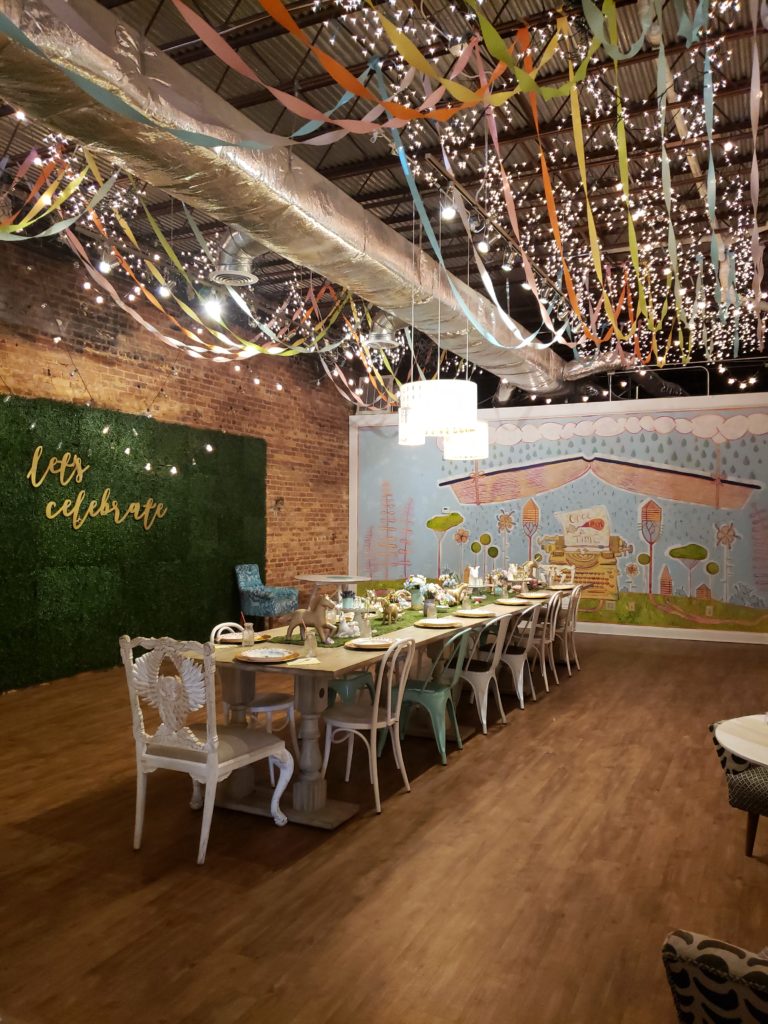 How beautiful is that? They were setting up for a 6 year-old birthday party and I suddenly came down with birthday party envy. This room is perfect!! It's no wonder they offer photo shoots at The Story Shop because the creative design is beyond belief. You really need to come experience it for yourself.
Of course I had to take advantage of a little product placement and get this picture of my daughter reading Taste Your Words to my adorable niece and nephew!
Ok. Back to the bookstore…
My 4th and 5th grader felt right at home in this curated section of middle grade and young adult books. There was a potions wall and comfy chair with a platform 9 3/4 pillow. The color palette of this room was dark and cozy. And my child, who should not be named (but was the best behaved) scored a book of his or her own before we left. 🙂
I was beyond impressed with imagination and joy of The Story Shop (not to mention the helpful and happy employees!) Every crafted nook and character theme was full of well-intentioned sparks of wonder. They even had a huge book opened to The End at the literal end of the hallway!
My visit to The Story Shop was even better than I imagined, and I hope I get to come back through the wardrobe REAL soon as a guest author!
If you haven't visited The Story Shop, don't wait as long as I did! Road trip it out to Monroe and experience the magic for yourself. And go ahead and buy a book or two for your best behaved children.